THE PREMIER AGILE+DEVOPS AUTOMATION PLATFORM FOR SAP
Thank you for joining us at TechEd Barcelona.  Whether you stopped by the Worksoft booth or attended one of our customer presentations, we hope we sparked your interest about how you can accelerate digital transformation and mitigate risk through automated business process discovery, documentation, automated testing and RPA. Global customers such as Deutsche Telekom, Lufthansa, UPM, Johnson Matthey and Hershey have joined us at SAP events throughout the year to present attendees with real world success stories where they employed automation to accelerate innovation, improve quality and efficiency, and reduce technology risk.
TechED Barcelona – SAP IT and Agile Testing with Worksoft
Johnson Matthey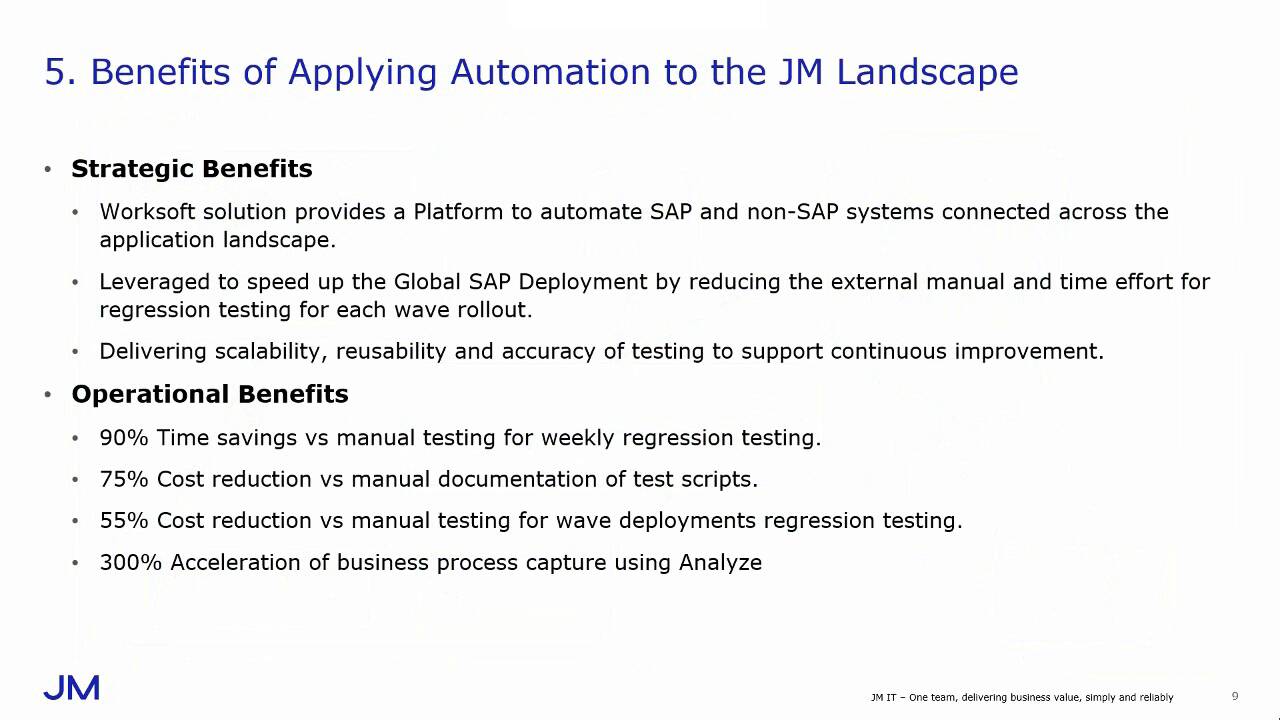 UPM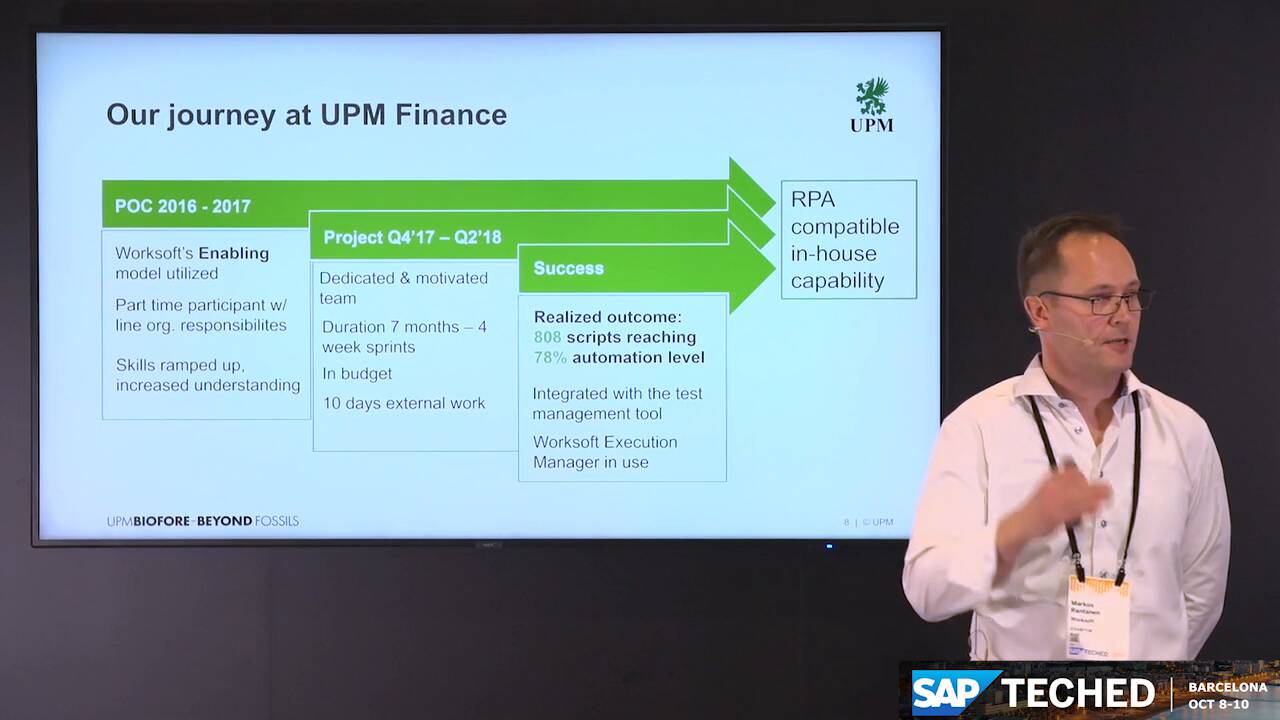 From Process Discovery to RPA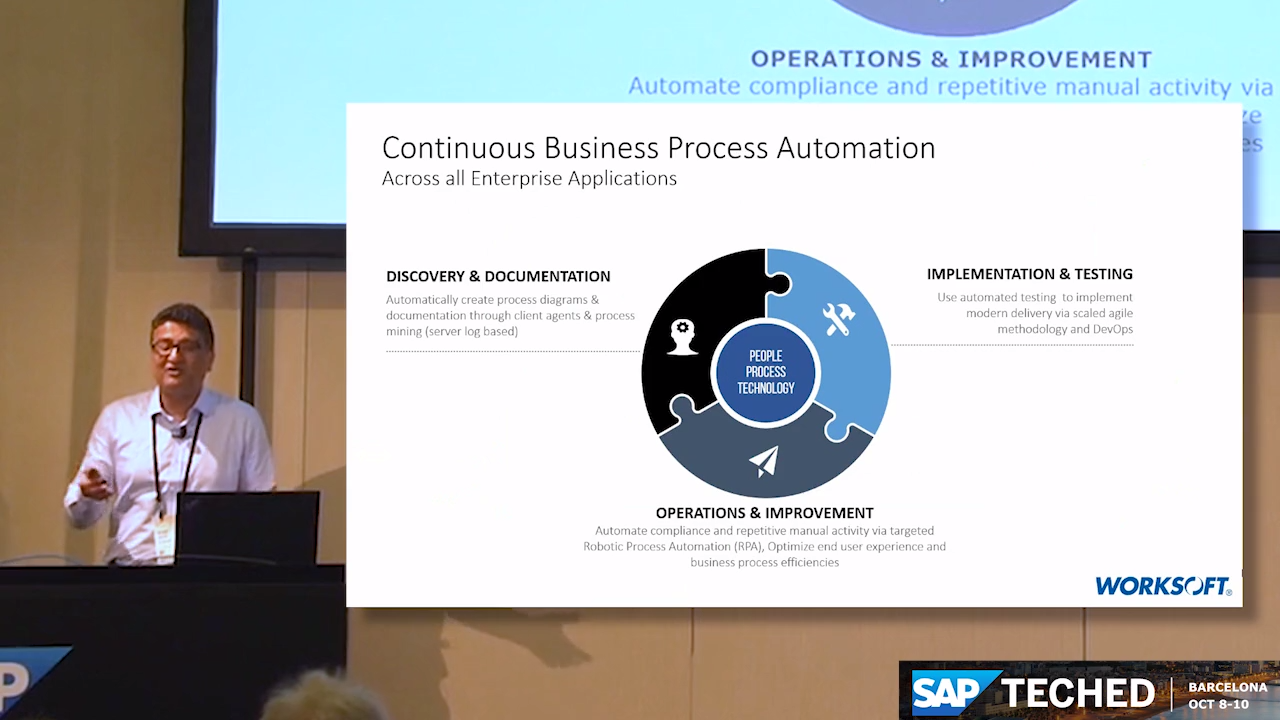 From Weeks to Hours: Johnson Matthey Experiences the Value of Automation
Date & Time: Tuesday, October 8 | 3 pm
Speakers: Shahed Bashir, Application Portfolio & Transformation Manager, Johnson Matthey
Roberta Watts, Global Head of ERP CoE, Johnson Matthey
Demo Session: Partner Demo Theater
When established enterprises depend on a variety of complex systems in their IT landscape, manual regression testing cannot keep pace with the speed of today's changes, resulting in a delay in time-to-market, high business risk, and defect vulnerability. Learn how Johnson Matthey implemented reusable automation across their SAP and non-SAP systems to slash testing time, improve quality and enable greater business agility.
Agile and Accurate: Ensure Business Processes with Continuous Automation
Date & Time: Wednesday, October 9 | 11 am
Speaker: Markus Rantanen, Senior Manager, Robotics and Automation, Finance Development, UPM
Demo Session 2: Partner Demo Theater
Innovation drives constant change in Agile environments. With this evolution comes frequent, ongoing updates to systems and processes. The greater the impact of change, the greater the validation effort required to maintain smooth business processes throughout your operation. Hear how a leading global forest-based bio enterprise prepared for their shift to S/4HANA by leveraging automation to accelerate processes in both pre-prod and production environments, significantly shorten programme cycles, and improve overall delivery effectiveness and quality.
From Process Discovery to RPA: Applying Intelligent Automation across the full Enterprise Application Lifecycle
Lecture Session Location: TBD
Date & Time: Wednesday, October 9 | 2:45 pm
Speaker: Shoeb Javed, CTO Worksoft
Companies today are tasked with innovating faster in a fragmented application landscape with distributed teams. Complex ERP migrations like S/4HANA require organizations fully understand their current processes as well as how those processes evolved over time. Learn how transferable automation delivers comprehensive process discovery, increases efficiency and helps you understand process variations, driving large-scale automation across the full enterprise application lifecyle and laying the foundation for RPA.